The Backyard Bus Artist in Residence Program. 2013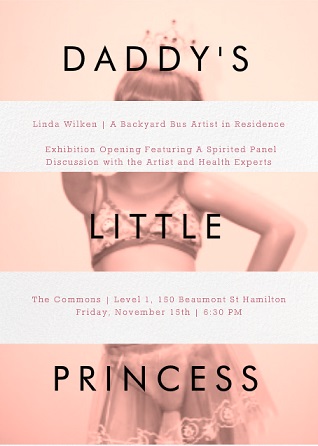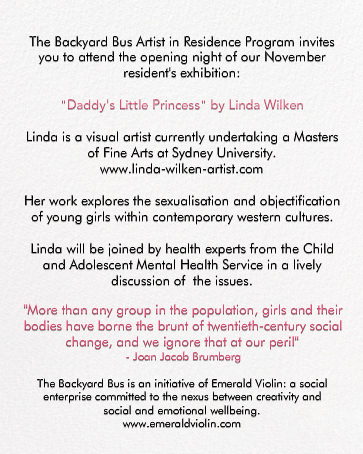 Casula Powerhouse Arts Centre presents
Daddy's little princess
LINDA WILKEN
9 February - 24 March 2013
Sexualisation and objectification of young girls is a current social and political issue. This exhibition represents the way young girls in contemporary western cultures develop their identity based on popular culture and stereotyping which begins in childhood. Influenced through magazines, music videos, social media and the internet, these 'young consumers' are being seduced into stylising themselves on hyper-sexualised ideals.
http://www.casulapowerhouse.com/exhibitions/daddys-little-princess.aspx
On Paper
Ernest Aaron
Elizabeth Pozega
Linda Wilken
BLACKTOWN ARTS CENTRE
Cr Alan Pendleton, Mayor of Blacktown, and Blacktown Arts Centre
invite you and your guest to the launch of a new exhibition.
6pm Thursday 9 February 2012.
Blacktown Arts Centre, 78 Flushcombe Rd, Blacktown
To be launched by Carrie Miller, independent arts writer and critic.
On Paper exhibition runs until 21 April 2012
On Paper
Showcasing challenging and surprising works by local and Western
Sydney based contemporary artists whose work engages with the
medium of paper.
Featuring the work of Ernest Aaron, Elizabeth Pozega and Linda Wilken
Blacktown Arts Centre
Open 10am – 5pm Tuesday - Saturday
T: (02) 9839 6558
E: artscentre@blacktown.nsw.gov.au
www.artscentre.blacktown.nsw.gov.au
Opening,Tuesday, November 15 at 6:00pm
Sydney College of the Arts,
Balmain Road Rozelle (enter opposite Cecily Street)
The exhibition continues to Friday 25 November.

Exhibition Hours:

Monday to Friday, 11am to 5pm
Saturday to Sunday, 11am to 4pm
Further Information:
T 02 9351 1008
E sca.degreeshows@sydney.edu
.au
W http://sydney.edu.au/sca
My Honours work will be in the SCA Gallery
Title: Daddy's little princess.
LOOP
Fonika Vervoorn Booth, Linda Brescia, Jo Ernsten,
Lorraine Maggs, Charlie Wells, Linda Wilken
19 August – 8 October 2011
Opening – 2.00pm Saturday 20 August 2011
Guest Speaker
Sylvia Ross
Head, School of Art, College of Fine Arts, UNSW
FAIRFIELD CITY MUSEUM & GALLERY
Open 10am – 4pm Tues-Sat,FREE ADMISSION
PHONE: 02 9609 3993 FAX: 02 9757 4357
Cnr The Horsley Drive & Oxford Street, Smithfield NSW
PO Box 2464, Smithfield NSW 2164
www.fairfieldcity.nsw.gov.au/museumgallery
4a james st, waterloo. Sydney

opening:

Time: ‎6:00PM - 9:00PM Thursday, August 18th 2011
view: friday-sunday twelve til four
Location:
Sydney College of the Arts, Balmain Road Rozelle
(enter opposite Cecily Street) Rozelle NSW 2039
Time:
6:00PM Tuesday, November 16th
My work will be in Printmedia
Location:
Firstdraft Gallery, Locksmith Project Space, MOP Projects, Serial Space and FBi Radio
Official Opening Time:
6:00PM Friday, May 7th at MOP Projects
LINDA WILKEN: My work will be at Firstdraft Gallery, May 5th - 23rd 2010
Address: 116-118 Charlmers st, Surry Hills NSW 2010
Phone: 9698 3665
Opening Hours: Wednesday - Sunday 12-6pm
Artist's talks: Sunday 9th May 1.40pm - 2.30pm
Forum at Firstdraft Gallery Saturday 15th May 2-4pm
Speaker: Peter Fay